From the Past
 In 2009- 2010, Larysa Yost worked on establishing an affiliate of our School in  Vancouver, British Columbia.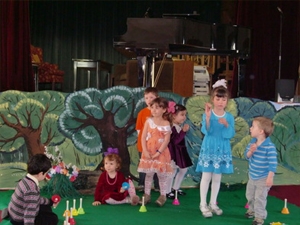 " I believe that there is a significant opportunity to provide the children of recent Russian immigrants —skilled workers, temporary workers and refugees—with the lessons that are suited to the methods they are most comfortable with and in their native language.    I like that at this Center a mixture of traditional and contemporary methods is used in order to accelerate the learning process.  From my experience with Larysa Yost, I believe that she is an excellent teacher and  an enterprising executive, who will bring the value to the lives to many Canadians."
Ryan Langford, President of Resound School of Music. Surrey, British Columbia. 2009
http://www.resoundschool.com/blog?filterby=Music
In 2004-2005, Larysa Yost taught music at Whitney Young Child Development Center.
"Ms. Yost was hired in March 2004 as the music teacher, covering three pre-school sites, serving a total of nearly 300m hundred (300) children in San  Francisco.
 The agency had been without a music teacher
for more than a year, while we searched for a person who posited the skills and patience necessary to teach young children-most from disadvantaged families and unfamiliar with classical children's music for keyboard, guitar, singing and the classical music of great masters.
Upon being hired,  Ms. Yost assured me that she would have children ready to perform within two   months,  and,  true to her word, she put together a choir of about one hundred fifty (150) children to perform in their first recital. In spite of the challenges that faced her, she delivered on her promise. She is goal oriented, focused and energetic.
Ms. Yost has demonstrated her ability to connect and engage parents in becoming more aware of their children's potential to learn and enjoy performing music. She has created a learning environment that is developmentally appropriate.
 This is evidenced by the reduction in the resistance of the students who, at first, did no appreciate the type of music she was exposing them to and teaching them to learn. A number of those students now are anxious to spend extra time with her when the opportunity presents itself.
 She is providing a musical education that is morally, intellectually, patriotically, spiritually, and culturally challenging. It is somewhat amusing to hear her lecturing the children, in her Russian accent, on their need to know the patriotic songs of America and what patriotism means.  As you are aware, what we do for and with children in their early years lives on for generations yet unborn."
 Cynthia   M. Williams, M. S., MFT
Executive Director of Whitney Young Child Development Center. San Francisco.  San Francisco, 2004
http://www.whitneyyoungcdc.org  
Larysa Yost brings out the best in every student!
"Most parents with children learning the same amount of time as my daughter are so astonished with my daughter's ability to play such advance pieces. I deeply feel that   it's Larysa's unique style of teaching that makes her so special. Larysa brings out the best in every student!"
Cindy Chan, San Franisco, 2005
In 2002-2003, Larysa Yost taught piano at St. Joseph's  School of Music (St. Paul, Minnesota)  
" The switch from Suzuki method to a  mixture of traditional and
contemporary one  wasn't easy for both of us, but with Larysa's experience as a teacher, my daughter has discovered the joy of reading written music and got very comfortable with the teacher".
Catherine G. St Paul, MN 2003
"We collaborated on some independent projects, and I have been impressed by Larysa's professionalism and knowledge of literature. She   finds the way of motivating   her students to study music more in depth and to instill in them a love of music."
Silvia N,  MN, St. Paul, 2003
"I believe this approach provides a very strong foundation from which to pursuer either classical or popular piano style".
Nancy Nelson, St. Paul, 2003
"Larysa teaches all her students to work their hardest and encourages them to be individuals. I would say she gives a new meaning to teaching and makes us strive for success".
Jason More, St. Paul, MN 2003
"As a result of Larysa's teaching, my son was reinvigorated. Larysa's love of children is apparent during the piano lessons. She approaches the lessons with skill and professionalism, but at the same time with a great sense of fun".
Erin M.
"My daughter has made significant progress in the past 6 months. Larysa's style of teaching has encouraged her to play pieces which are harder and more interesting than most beginning piano students are able to master"
Paul R.
[btn_arrow_yellow url="https://www.trio-school.com/testimonials/wbca-recommendation/" target="_self" position="left"] WBCA Recommendation [/btn_arrow_yellow]